CRM Science
CRM Science COVID-19 Solution and Pandemic Management Accelerator on Salesforce
COVID-19, pandemic, new normal, face masks — all terms that have been in the forefront of our lives for the past year. With the release of coronavirus vaccines, we are finally seeing a light at the end of the tunnel.
However, effective delivery and management of vaccines are critical components to how we're going to overcome the coronavirus pandemic. Never before have we faced distribution and management of a vaccine of this scale.
Quickly responding to new client challenges, our team built and implemented a Salesforce COVID-19 solution and Pandemic Management Accelerator on Salesforce created specifically for our Salesforce consulting clients in healthcare and hospitality industries.
Since implementing the solution with an enterprise healthcare / hospitality client, our Salesforce COVID-19 solution has screened over 300,000 people before they entered our client's premises. In addition, over 8,000 employees and over 12,000 constituents across 26 locations will be vaccinated using our Pandemic Management Accelerator.
Six Obstacles to Effective Vaccine Administration
There are six basic obstacles to effective vaccine administration for the coronavirus pandemic.
These obstacles are:
Limited vaccine supply.

Coordinating distribution among many different vaccines.

Efficacy across populations.

Limited clinical trials and adverse reaction tracking.

Volume of vaccines to administer.

Communicating with the public.
The first obstacle in our list is more obvious, but many people aren't aware of the additional challenges.
Organizations are already administering other types of vaccines to populations. We are adding another type of vaccine to the mix, and these organizations must use extra care to ensure inventory of this new vaccine is handled properly.
In addition, the newness of the COVID-19 vaccine presents challenges in determining efficacy across populations. The vaccine is being administered to a broad range of populations, and limited clinical trials have been completed. This presents challenges in determining efficacy or tracking adverse reactions. And, there are additional challenges that come with the high volume of vaccines to administer to these broad populations of people.
Finally, communicating with the public presents many challenges to effective vaccine administration. Engaging with the public to help them understand the parameters of the vaccine's efficacy is essential, and there are the additional challenges presented in coordinating vaccination appointment scheduling and prioritizing at-risk populations while distributing vaccines in an equitable fashion.
Salesforce Use Case for COVID-19 Solution and Vaccine Administration in Healthcare and Hospitality Industries
The word "unprecedented" was thrown around often when the pandemic reached the U.S. in early 2020. That's because most people alive today have never experienced a situation like this before.
Our client, which manages 26 locations in healthcare and hospitality industries, needed to quickly develop protocols to prevent the spread of coronavirus through minimized contact and social distancing. In addition, the organization was given new challenges with added data to report to state and federal government entities to ensure compliance with regulations.
Finding a Better Pandemic Data Collection Solution
Our client quickly organized a method for collecting and reporting data through the use of paper forms, but that didn't present an ideal situation for minimizing contact and efficiently collecting data. As a result, our client reached out to us for assistance developing a solution using the Salesforce clouds already in use at the organization.
How it started:
Paper Forms
The use of paper forms to collect safety data caused traffic backups and introduced a lot of danger with prolonged exposure in lobbies as people waited to complete the form.
CRM Science Solution built on the Salesforce platform:
Screener Application
The CRM Science team built a flexible web application that allows users to collect data quickly and digitally through use of an iPad or Android tablet. The app uses personas (employee, resident, visitor) to screen individuals, and the app automatically flags people who should not enter the campus based on questions asked and logic features.
Using Salesforce Health Cloud functionality, we were able to further streamline this process by implementing the self pre-screening solution.
Self Pre-Screening Solution
With our self pre-screening solution, automations send employees daily surveys to "pre-screen" before their arrival onsite. By completing the survey, the employee is able to bypass the initial screener questions and go immediately to temperature check processing, which further reduces the amount of time necessary to get on campus.
Vaccine Management Solution for Healthcare and Hospitality Industries
With the advent of vaccine availability, we have moved to a vaccination process that can be managed within Salesforce.
Through the use of Salesforce Health Cloud, surveys, automations and standard objects, the entire vaccination administration process is handled with accuracy and efficiency — starting with consent all the way through to tracking and reporting on adverse reactions.


Verifying Consent
Use of surveys to not only capture initial consent to receiving the COVID-19 vaccine but also predetermines the current health of the employee surveyed.
All responses are captured in Salesforce, and an immunization record is created whether the employee consented, declined, or is health restricted. This will provide for better tracking no matter the outcome of the consent.


Scheduling Plus Notifications and Reminders
If employees grant their consent to receive the vaccine, employees select a date and time to receive their vaccination. An appointment notification is sent via email with follow-up reminders close to their selected vaccination date.
Screening at Vaccine Administration Appointments
At appointment time, a second screening process is initiated with additional health-related responses and vaccine details, and administrator approval is gathered and recorded electronically.
Since most COVID-19 vaccines currently require two doses, flexibility has been built to generate the records for capture and administration of subsequent dosages.
Scheduling Second Vaccine Dose
This can be scheduled at the time of the first dose processing, or vaccine recipients can manually schedule the second vaccine dose at a later time.
Track and Report on Adverse Reactions
The ability to capture adverse reactions and trace back to the initial vaccine given is part of the functionality so reactions can be managed and properly reported.
Long-Term and Future Use Cases for CRM Science COVID-19 Response Solution
Like the Salesforce platform itself, the pandemic management accelerator we built is highly customizable and flexible in nature.
Our solution was built with COVID-19 vaccination in mind, but can be leveraged to capture flu, pneumonia, shingles, or any other vaccines that may be developed.
Industries that can use the CRM Science Pandemic Management Accelerator
Organizations already using the Salesforce platform for day-to-day operations can quickly benefit from the implementation of a comprehensive vaccine administration solution.
Here are industries and types of healthcare providers charged with the task of managing vaccine administration for large populations:
+ Medical facilities
+ Hospitals
- Urgent care facilities
- Practitioner offices
- Elder care providers
+ Education
+ Manufacturing
+ Nonprofit organizations
+ Airlines
+ Hospitality
+ Local, state, federal governments
Salesforce Vaccine Cloud Overview
The CRM Science team has worked quickly and diligently to build the Pandemic Management Accelerator, and Salesforce has also responded to the time-sensitive demand for flexible technology solutions to manage vaccine administration.
Vaccine Cloud is the latest offering from Salesforce. By leveraging various components of the Salesforce platform, including Work.com and Salesforce Health Cloud, a unified solution is provided to help organizations address their specific vaccine management needs.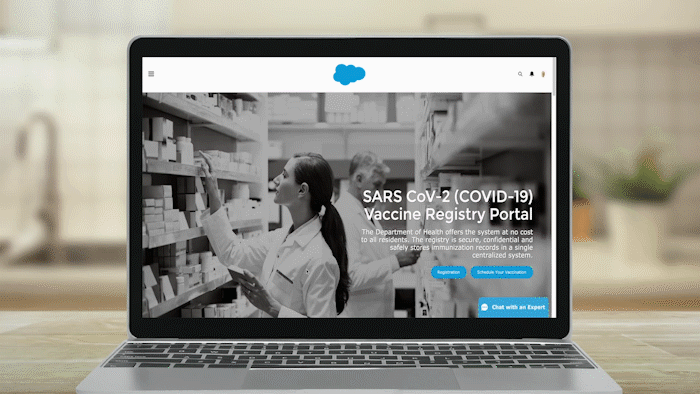 Components of the Salesforce Vaccine Cloud solution include:
Health Command Center
Provides a 360-degree view of vaccine management from insights into demographic health status to vaccine inventory levels.
The Health Command Center allows you to visualize the impact you are having as well plan, organize, and coordinate with other organizations you need to work with throughout the process of delivering vaccines to your population.
Vaccine Inventory Tracking
Helps organizations ensure inventory availability and tracking.
This component also aids in maintaining adequate vaccine doses, syringes, and personal protective equipment (PPE) stock levels so reams can plan accordingly and engage the right populations at the right time. Inventory tracking also helps to reduce waste and avoid surplus supplies.
Vaccination Appointment Scheduling
Manages eligibility, consent and registration.
Time-saving features such as pre-screening, digital consent as well as self-service and on-demand appointment scheduling are available.
Health Notifications
Manage communications through notifications and automations for education, outreach, and even second dose reminders.
Vaccination Outcome Monitoring
This component gives users the ability to survey constituents to monitor health outcomes while also providing follow-up notifications about health concerns.
Clinical Vaccine Administration
Ensuring medical professionals are trained on vaccine administration before delivery.
This feature also helps vaccine administrators to avoid bottlenecks through the use of pre-screening surveys, and AI tools assess readiness and provide logging and tracking for administration of the vaccine.
Salesforce Pandemic Response Resources
Check out these resources to learn more about managing vaccine administration on Salesforce and the CRM Science Pandemic Management Accelerator on Salesforce.
Contact CRM Science Salesforce Consultants
Finding innovative ways to respond to urgent challenges harnessing the power of Salesforce is what our team does best, and that's exactly what we did when building the COVID-19 solution and Pandemic Management Accelerator.
In fact, at the time of this article publication, CRM Science is the only official Salesforce partner with vaccine management solution experience. Our team is also well-versed in all things Health Cloud and Service Cloud, and we deliver consulting expertise in the newest Salesforce offering, Vaccine Cloud.
Contact CRM Science Salesforce Consultants to schedule a demo or learn which solutions are best for your organization's unique needs.